Where to Eat in Stirling
Stirling is nestled in the heart of Scotland and is perfectly placed between the Highland and Lowlands. Brimming with local history, culture and fascinating architecture, this city also features a thriving culinary scene, with a fantastic array of local restaurants to explore. Here we look at some of the best restaurants Stirling has to offer, as well as the great hospitality and home-from-home comforts that await you in Stirling Court Hotel.
Abbey Craig Restaurant
No visit to Stirling would be complete without a visit to our very own Abbey Craig restaurant. With floor-to-ceiling windows that look out onto beautiful woodland, our restaurant boasts some of the prettiest views of our stunning 330-acre grounds.
A firm favourite with both residents and local visitors, our restaurant offers a wonderfully bright and welcoming eating area that you're sure to love morning, noon and night. If you're planning on exploring our grounds, we definitely recommend a delicious Gin Afternoon Tea for Two!
Our team of skilled chefs pride themselves on creating delicious seasonal menus that showcase the very best of Scotland's larder. With a wide variety of hot and cold dishes to choose from, we're sure to tantalise any tastebuds.
Our handy 'Dine at SCH' hotel app can be downloaded from the Google Play or App Store and makes booking a table and paying your food effortless. You will find this HERE.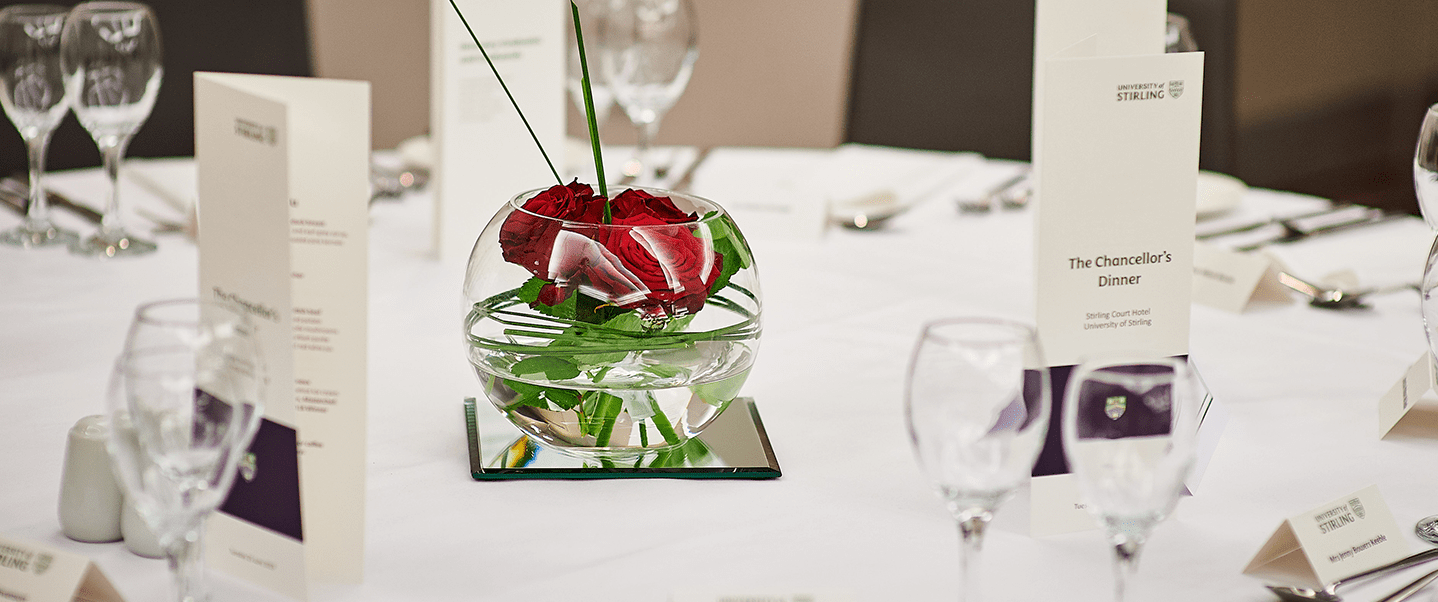 Gabe's Diner
If you're after a relaxing meal in the heart of Stirling's city centre, then Gabe's is a great option. A small, welcoming space with a wonderfully homely feel, this is a great spot for a quiet and relaxing meal. Paper lanterns illuminate the chairs and tables and you'll find the daily menu artfully scrawled onto chalkboards. The menu perfectly matches the restaurant's ambience, with a menu chock full of tasty home-cooked favourites including an aromatic Thai veg stew and delightfully cheesy macaroni cheese. Gabe's is also a great option if you're looking for a lazy brunch spot – their classic French toast and egg and soldiers are not to be missed!
The Birds and Bees
One of the most popular eateries in Stirling, The Bird and the Bees is a firm favourite with both locals and visitors. In fact, this pub is a bit of a local secret; tucked away on a back road on the city's northern fringes this restaurant is housed in a charming, white-washed cottage. Be prepared for a beautifully decorated interior with plush leather sofas, striking patterned curtains and an extra cosy spot in front of the fireplace. This helps to create a welcoming and contemporary atmosphere that you're bound to fall in love with. There's loads of pub-grub pleasing favourites to enjoy that run from tempura king prawns and nachos to burgers, steak and everyone's favourite fish and chips. There's plenty of outdoor seating and lots of room for kids to run around. If that's not enough to tempt you to visit, they also stock a very impressive range of craft beers and real ales.
The River House
Just a hop, skip and a jump from Stirling Castle, the River House boasts a hugely atmospheric setting. Set on the edge of a small lake, with stunning floor-to-ceiling windows providing one of the best views in the city, the River House is the perfect choice for a special occasion. Sleek leather seats and bright blue walls help to create a contemporary feel and this quirky, elegant atmosphere is also reflected in the menu with a real mix of fine-dining and traditional British classics. If you're looking to sample the best of Scotland's larder we definitely recommend trying the king scallops with a chorizo and butternut puree.
Breá
Breá is a bustling bistro that brings a touch of bohemia to central Stirling. With a short menu showcasing locally sourced Scottish produce including haggis, venison, beef and a great array of fresh seafood, this contemporary bistro also offers gourmet burgers, pizza and a handful of tasty vegetarian choices.
Mamma Mia
This classic Italian eatery can be found in Stirling's Old Town and offers a short menu chock full of southern Italian delights, along with weekly specials that are definitely worth going for. With a plethora of delicious pasta dishes to try, alongside Scottish steaks and sea bass, there's something for everyone to enjoy.
Portcullis
Standing below Stirling's famous castle, this former school is perfectly positioned for a pint and a hearty pub lunch after your castle visit. With a great range of pub-grub classics, a cosy beer garden and warm and inviting atmosphere, you should definitely pay this pub a visit.