Staying Safely at Stirling Court Hotel
Our Staying Safely charter has been created to reassure all of our guests of a safe and warm welcome from us.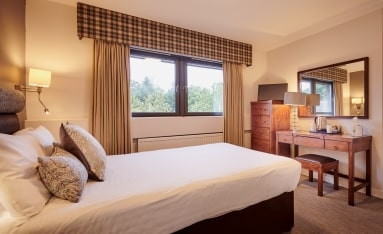 It is crucial to us that we continue to deliver the safe and comfortable space that you have grown to love at Stirling Court Hotel. We work tirelessly to ensure that this is delivered to you every time you come to visit. This includes gaining our Good to Go Accreditation from Visit Scotland.
Read below to see what we have put in place.
BEFORE YOU LEAVE HOME
Wherever possible pay in advance by booking directly with us. You can do that HERE
This means you don't have to pay at our reception.
When you pack, you may want to bring your own travel-size sanitiser bottle, face mask and gloves. This is not compulsory, but may make you feel more secure.
Check for symptoms. If anyone coming to stay with us has any of the following symptoms or is shielding, please do not travel:
A high temperature (37.8 degrees or higher).
A new and continuous cough.
Shortness of breath.
Loss of taste or smell.
WHEN YOU ARRIVE
Your room will be ready from 2 pm
Use the designated car parking areas and please don't move any cones that have been put in place to aid physical distancing.
Use the main hotel automatic doors to enter the hotel, observing social distancing rules and being aware of those guests exiting.
Your social distancing Host will be available throughout our guest areas.
If you haven't already prepaid for your stay, we will charge or pre-authorise your chosen card.
Send just one member of your party to the reception desk to collect your sanitised key card.
WHILE YOU ARE WITH US
Cleaning and hygiene
We have developed enhanced cleaning procedures to help keep our guests and our team protected. From front of house to behind the scenes, enhanced cleaning measures not only mean that we are cleaning more regularly, but also that we are focusing in on more high contact areas.
Cleaning and disinfection have been increased, ensuring staff are including all frequently touched areas such as counters, switches, door handles, equipment and toilets.
Sanitiser spray is used, which is effective against viruses. At the end of each shift, our team is also deep cleaning all hand touch surfaces one additional time.
Our team
To help stop virus spread our team are all:
Washing their hands and using hand sanitiser on a regular basis.
Completing health questionnaires as they return to work and confirmed every time they come on duty for their rostered hours going forward.
Trained on the wearing of personal protective equipment and COVID-19 safety and sanitisation protocols, and what they do if a guest or team member becomes unwell.
Trained on social distancing guidelines and protocols and what to do when they cannot socially distance.
Bedroom Room Set Up
When you arrive at your room, you will find our 'staying safely' seal on your room door.
This seal guarantees that no-one has entered your room since the thorough deep clean carried out by our housekeeping staff. It is our promise to you that we care about your health and keeping you safe while you spend time with us.
All linen has been changed
All hard surfaces have been cleaned with sanitising spray, with extra attention paid to high-touch areas such as door handles and bathroom taps.
All soft surfaces have been thoroughly vacuumed and/or swept.
All towels are washed at 60 degrees by our contracted specialist laundry service and any additional towels and pillows have been removed from your room. They are however all available on request from Reception.
To minimise the amount of time we spend in your room, your room will only be cleaned on request or at the end of your stay. We are of course, happy to provide clean towels, sheets and toiletries. Once a room has been cleaned, we will place the 'staying safely' seal on your door, guaranteeing it is ready to re-use.
All high touch areas will be thoroughly cleaned after each guest checks-out and items such as mugs will be replaced.
Anything else you may need is only a phone call away. Just dial 0 from your room.
Public Areas
Social distancing is marked out on our floors and with signage in all shared spaces, including reception, bar, toilets and dining room.
Please wear a face covering in public areas where there is no guaranteed physical distancing, this includes the guest toilets and the hotel corridors.
Perspex screens have been installed at reception to provide physical separation between team members and guests being served where practicable. Team members will wear face masks and distancing measures will be in place for our 'dine-in' service.
Limits on the number of guests in the hotel will be calculated and applied.
Our social distancing Host will be available to guests to ask questions and be accountable for the implementation of social distancing, cleaning and handwashing measures.
Sanitation stations are available throughout the hotel and in our guest areas. Use these frequently whilst moving around our facilities especially when entering or leaving our food areas.
Try and use the stairs where possible throughout your stay. Only one person at a time in the lift unless you're from the same household.
Fire Alarms - as usual, fire safety notices can be found in your room. If you hear the fire alarm and are evacuating, keep your distance from others whenever you can.
Stirling Court Hotel is situated on over 300 acres of beautiful open grounds, so please make full use of this if you wish. A map of trails and walks is available from Reception.
Food & Beverage
Our dining room is open and is serving breakfast, lunch and dinner, however pre-booking is required.
Download our hotel app 'Food at Stirling', scan the QR code or visit stirlingcourthotel.co.uk/food to book your table and order and pay for your food. Choose the 'Prepaid' option if your meal is a part of a package you have already paid for.
Contactless payment will be in place for those who cannot use the app or website to order and pay.
Our restaurant teams will be wearing appropriate Personal Protective Equipment.
Our whole team are formally trained in food safety best practice which has been enhanced to help stop virus spread. All tables will be cleaned after each sitting.
We will save your name, email address and phone number if you are resident to comply with the Test and Protect scheme in Scotland. Non residents will be asked to use the Check in Scotland system on arrival to any of our public areas. To learn more about this, you can read our Privacy Notice on www.stirlingcourthotel.co.uk/food. If you have any concerns, please discuss with the hotel staff.
BEFORE YOU LEAVE US
If you haven't already paid for your stay, please send one person to the reception desk to check out and pay. We will ask you to pay with card and our card machine is sanitised after every use. We can email you a receipt if you wish.
When you're ready to head off, leave your key card in your room.
HOME SWEET HOME
We hope you will reflect on a great time away and feel refreshed. We would be delighted if you would tell your friends about us and maybe review us on TripAdvisor or Google if you can. Thank you for joining us and we hope to welcome you back to the hotel soon. Book direct HERE, and use Promo Code BD10 to enjoy 10% of your next and a complimentary welcome drink too.
OUR OFFER:
Over 300 acres of outdoor space including Airthrey Loch for walking and cycling
All bedrooms fully sanitised and sealed prior to your arrival
All public areas repeatedly sanitised
Spacious dining areas ensuring safe distancing
Private meals and picnic baskets available
Highly trained staff and excellent food options
All staff meticulously trained for the safety of guests and team members